This was my favorite day! I started off the day at
Honey Pot Hill Orchards
in Stowe, Massachusetts to go apple picking.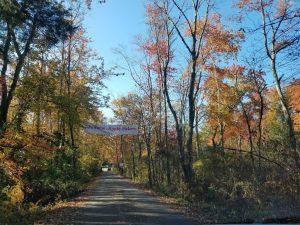 Honey Pot Hill Orchard Entrance
I've had berry picking on my list of things I want to do forever now, so I was excited to do something similar. When I arrived I purchased a "peck bag" and a ticket for the hayride. The bag options (bushel or peck) made me smile–my mom used to sing a song called "A Bushel and a Peck" when I was little. Once I had my bag, I headed into the orchard to begin picking!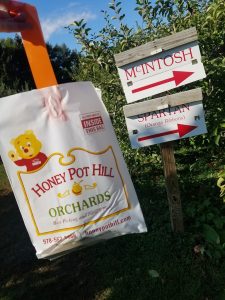 Peck bag for apples
Thankfully there were signs that said what to do: grip the apples then turn upside down and twist, which would break them from the tree without shaking it. I realized how important the technique was once I incorrectly removed one from the tree and saw another apple fall loose–it came very close to falling on my head!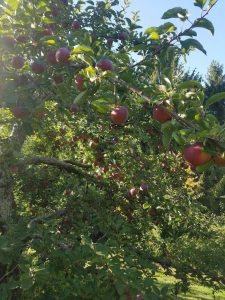 Apples on the tree
As excited as I was to see the apples growing on trees, I was probably even more excited to see there were ladders, and a special kind, to climb up into the trees! The ladders were A-shaped and you'd rest them on a sturdy branch then climb up to pick. SO cool. And so surprising–that has to be such a big liability.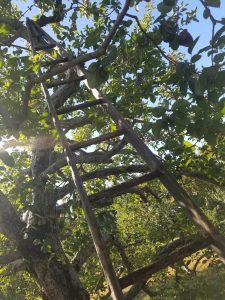 Ladder leading into apple tree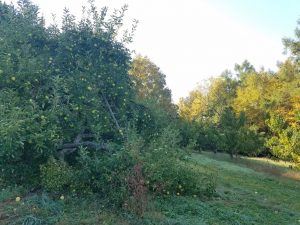 Ladder leading up into apple tree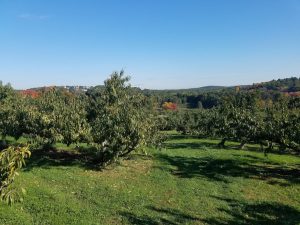 View of the orchard and surrounding hill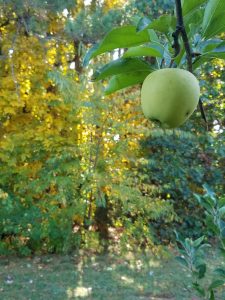 Apple growing and Fall forest behind
When my bag was about two thirds full, I saw a path through a forest area that led to pears. I'd overheard someone from the farm say that the pears were all gone, but I figured I'd venture over there anyway. It turns out there were also apples on the other side so I was glad I went. I was also able to find a few pears still on the trees as well.. yahoo!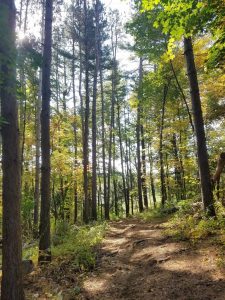 Path to more apples and pears
The view from this part of the orchard was so beautiful.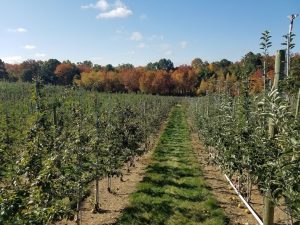 View of the orchard
Once I filled my bag up, I headed over to the hayride. Oh my gosh, it took forrrreeeverrr to get back to the entrance I came from. We stopped at the first stop after I was picked up for probably 15 minutes. Then I got off at the next stop only to find I was at the wrong entrance. It might have taken me an hour to get to the correct entrance by the time I took two hayrides. The second hayride got stuck for a bit behind a broken-down tractor that was blocking one of the platforms where they unload people. Haha.. It would have all been fine except I had a packed schedule and long day ahead of me so it was frustrating.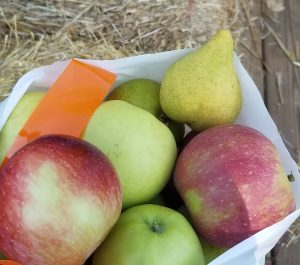 My apples and pears
Once I dropped off my apples, I went back around to the farm store to try the cider donuts I'd learned about online and have some apple cider. I was so happy to see they had a lineup of all the apples with their names–I'd wished there was something with pictures of them in the orchard.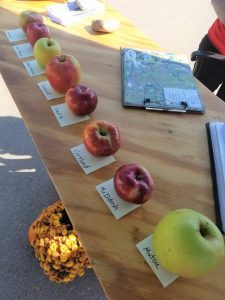 Apples and their names
I ended up getting a half dozen cider donuts because they didn't come in any other quantity. They were sooooo good. Oh my gosh and the apple cider was fantastic too. Yum! I ate three of the donuts on my way to my next destination.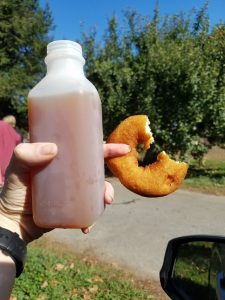 Apple cider and apple cider donut
My next stop was at Ward's Berry Farm in Sharon, Massachusetts. This one was hard to find–I specifically wanted to go to a farm that grew pumpkins. Everyone seems to have a pumpkin patch this time of year, but most haul them in from elsewhere. This was the only website I found that talked about having growing 30 acres of pumpkins… over 100,000! So crazy! At the front, they had tons of pallets of all kinds of pumpkins. I'm not sure I knew there were so many varieties.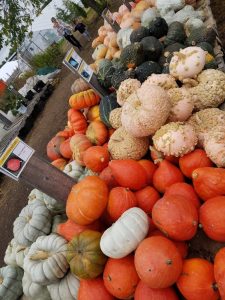 Pumpkins
This time I skipped the hayride and walked to my destination. It was at the back right corner of the farm, past strawberry plants, tomatoes and lots of other produce. It. Was. So. COOL!!! Oh my gosh. It was like… Halloween Easter eggs in a pasture. I couldn't stop grinning and taking pictures. And I found miniature horses and a "Miniature Horse X-ing" sign like what we have at home!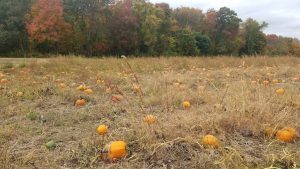 Pumpkins growing!!!
Different areas had different varieties growing… so cool! I love the.. well… I call them zitty ones. They're fascinating! I'm sure there's a better or actual name for them but.. it works.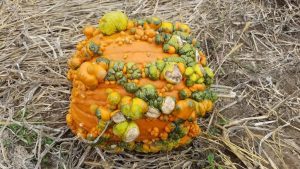 "Zitty" (according to me) pumpkin
And look at these! These were cool too! OK so I've now looked up these pumpkins for an official story/name. The Mosaic virus can make a smoothe pumpkin look lumpy like zits (coming from under the skin). That said, the pumpkins on the market that look like they have warts (sitting on top) are genetically engineered. There are multiple varieties of these "warty pumpkins," some official names are Knuckle Head and Goosebumps.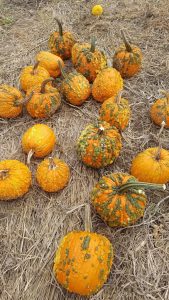 This one was so weird, it was like a.. melted ghost pumpkin.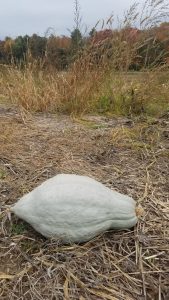 "Ghost" pumpkin (according to me)
Well. This is the last pumpkin picture and I'm sad about it. I want to go back.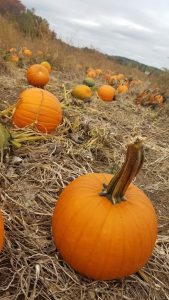 Never enough pumpkins
Shockingly I was able to make it out of the pumpkin patch without buying any pumpkins. I already have two decent ones and five small pumpkins and gourds (yes some zitty!) at home. Once I was done at this farm, I headed to Plymouth, Massachusetts for my final sightseeing.
My first site to see in Plymouth was National Pilgrim Memorial Meetinghouse. It's not an original building, but the fifth that has been in the spot and one the community is working hard to preserve. I had some beautiful stained glass windows that had been removed from the front of the church where they're doing construction and moved to be beside the pulpit, on display.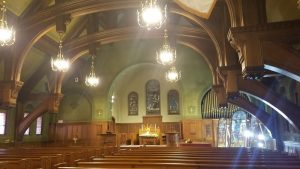 National Pilgrim Memorial Meetinghouse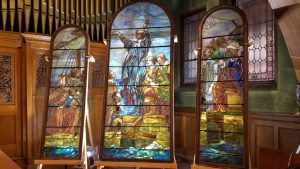 Stained glass in the National Pilgrim Memorial Meetinghouse
The meetinghouse backs up to Burial Hill Cemetery (1622) which was the next spot I went to. The cemetery is where the first pilgrims were buried. While it's full of tombstones, a sign at the entrance noted that in the 1600s markers were made from wood, so none of those survive today. The oldest stone present is from 1681.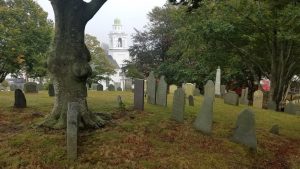 Burial Hill Cemetery
After that, I walked down the hill to Pilgrim Memorial State Park so I could see Plymouth Rock. It sits under a covering that overlooks the Plymouth Harbor, and after being chipped away, split in half and a number of other things happening to it over hundreds of years, it is quite small today.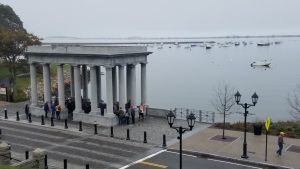 Plymouth Harbor and structure covering Plymouth rock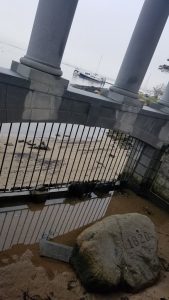 Plymouth Rock
The water was so beautifully calm. The harbor is protected by a three-mile-long barrier beach.
That was all for Plymouth. I had hoped to see a Mayflower replica but it wasn't in the spot I'd marked on my map.
A weird closing picture.. I kept seeing these signs around Massachusetts. So why does everyone think Texans ride horses around everywhere, yet it's Massachusetts that has the no horse riding signs all over the place? I've NEVER seen one of these in Texas!