After our breakfast and coffee this morning, we headed downstairs to the bar for ukulele lessons. Oh my gosh, it was very difficult with my nails, also difficult since I've never played anything but a piano! Our teacher taught us three chords so we could play "You Are My Sunshine." I didn't realize the lyrics to the song were so dark! Yeesh.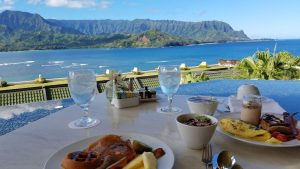 The view during breakfast
After the ukulele lesson, we walked over to a Hideaways Beach, a beach our snorkeling counterparts had told us about that was between our hotel and Queen's Bath. There was a little trail between a parking lot and a condominium that was easy to miss, that eventually headed down the cliff and had ropes to hold on to as a makeshift railing.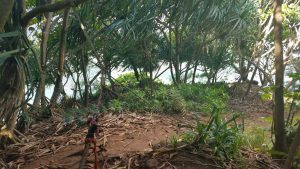 Rope railing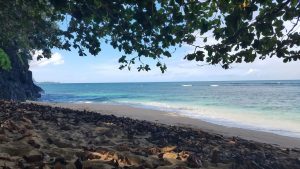 Hideaway Beach
We snorkeled for a little bit at the beach and then headed back to the hotel and I looked up the hours for a thrift store we had passed one day in Kilauea to see if they were still open because I wanted to find some fins. When I looked it up, they were about 25 minutes from closing, so we quickly headed over and made it there with about five minutes to spare. We were able to find some fins for me and a snorkel for Martin since he had just been using my swim goggles by themselves. Yahoo!
From there we headed back north to see Maniniholo Dry Cave and had to go over several one way bridges, like every night that we've gone into Hanalei for dinner. There's a sign that says to yield and that the local courtesy is to let 5-7 cars pass. After exploring the cave for a few minutes, we then watched a beautiful sunset and the waves.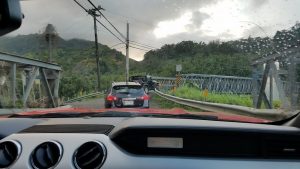 Two one way bridges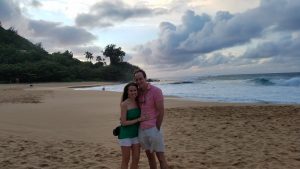 Haena Beach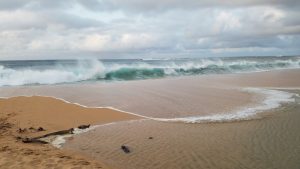 A stream meeting the ocean at Haena Beach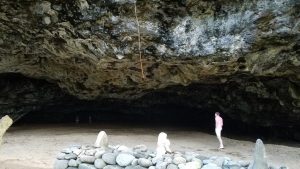 Maniniholo Dry Cave
Once it was dark, we headed back into Hanalei to Chicken in a Barrel for dinner (had some sort of delicious combination plate) and had some fantastic BBQ and then grabbed some ice cream at Pink's Creamery, then went back to the hotel and finished Moana.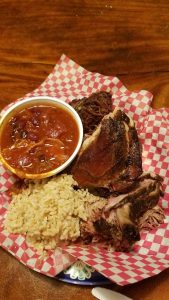 Chicken in a Barrel for dinner