My favorite Halloween movie is "Hocus Pocus." I remember the first time I saw it, probably in 1993, at a horse awards banquet in Denton, Texas, and it's a movie I own today. The movie takes place in Salem, Massachusetts, so I recently decided to travel there for a long weekend.
I started off my day having clam chowder and stuffed clams at Turner's Seafood. Ohh my gosh, it was so good! I was glad I ordered both; the stuffed clams were amazing.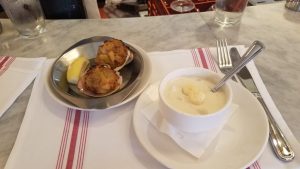 Stuffed clams and clam chowder
From there I started wandering! After a block or two I got to an area with lots of street vendors selling witches hats, tshirts and all kinds of random things. I also saw one of the famous sculptures in Salem, one of Samantha from Bewitched. The show featured Salem in several episodes when it was on in the 1960s, and TV Land donated the statue to the town in 2005.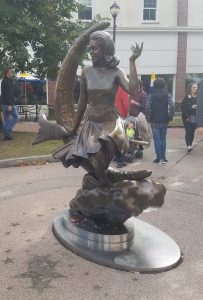 Bewitched Sculpture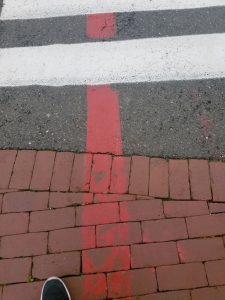 Heritage trail
While wandering down the street, in and out of various witchy-themed stores, I eventually found the Salem Heritage Trail. The trail guides tourists using a red line that's painted on the ground throughout the town going from one site to the next. Brilliant! I can't remember ever seeing this done before and it was so helpful.
The first notable spot I came across was the Witch House, a 1600s style house that was the home of Jonathan Corwin, a magistrate and judge in the infamous Salem Witch Trials. It's said to be the only building still standing from the time period of the trials. Since I was visiting in October, the town was packed, and this house was not an exception. There was a line, a long one, to get in so I continued on my way after snapping a picture.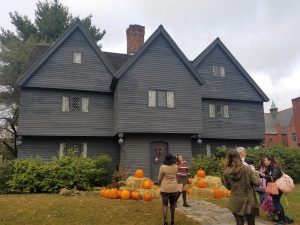 Witch house
Of course, being a Hocus Pocus fan I had to visit all the movie sites. Just down from Witch House I found the Ropes Mansion, known in Hocus Pocus as Allison's house where the main characters expect to go bobbing for apples.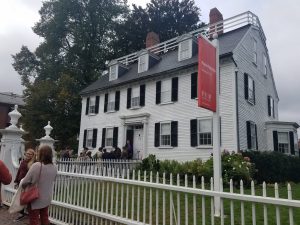 Ropes Mansion front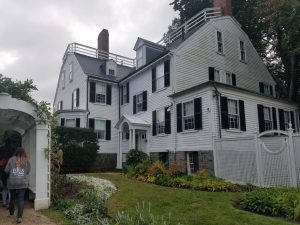 Ropes Mansion back
The Ropes Mansion charges a fee to enter and see inside, but there was a garden behind that was free to look through. I was amazed to see so many beautiful flowers when it's fall and so far North!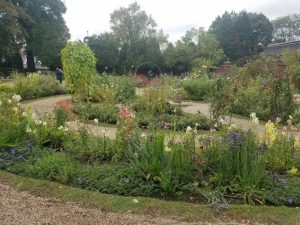 Ropes Mansion gardens
From the mansion I looped back toward town and ventured into a building where they had a bunch of vendors selling items. Kind of creepy! One vendor was selling dolls that she had painted to be zombies, bleeding, all kinds of creepy stuff. Others were selling bones and… yep. Not my thing! I definitely love Halloween, but Salem helped me find my limit very quickly!
When I left that vendor area, I started making my way toward another Hocus Pocus spot to check out. I went into a few stores on the way and thought this picture was funny…. "Wonder Witch." Again, the witch theme is 100% throughout the town!!
The next sight was the Town Hall, the building where the Sanderson Sisters in Hocus Pocus sang, "I Put a Spell On You." When I snapped a picture of the building, there was a tour group being led into the building by 1600s dressed actors for a mock witch trial.
I followed the path until I got out to the edge of town, where I walked out on Derby Wharf to the end to see Derby Light and Salem Harbor. Derby Wharf was built in 1762 and later became Salem's longest wharf, while the light was built in 1871 and was a very simple looking lighthouse.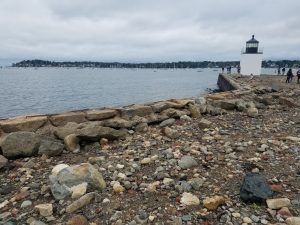 Derby Wharf and Light overlooking Salem Harbor
When I walked back to the path and continued on my way, the next sight was the House of Seven Gables. The house faces Salem Harbor and they sell tickets to tour it. I wasn't familiar with it to care to take a tour, and like everything else it was crazy busy so I decided to just get close to the fence for a picture!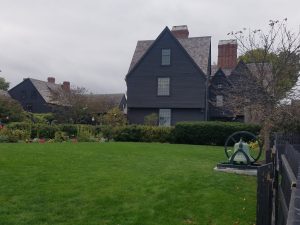 The House of Seven Gables
From there I followed the trail back into town and saw The Burying Point, Salem's first graveyard as of 1637. Right beside the cemetery, you can find the Salem Witch Trials Memorial. The memorial features 20 granite benches that are cantilevered out of a stone wall. Each bench shows the name of one of the accused from 1692 along with the date and method of their execution.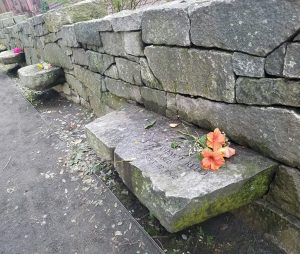 Salem Witch Trials Memorial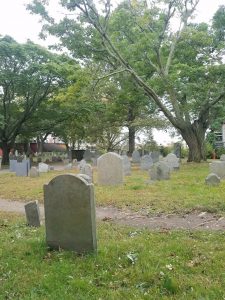 The Burying Point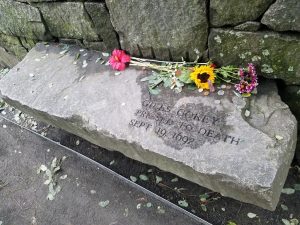 Memorial for Giles Corey
By the time I was done in this area, it was starting to get dark and I still hadn't finished finding my Hocus Pocus photo opportunities. I looked up the next one, Max and Dani's house, which was a bit over a mile away.. so I started walking. It was far from the center of town and all the other sights, but when I got there, there were several groups of people taking pictures of the house. The most interesting was a family of three with a little board that said "Whinnie I smell a child!" They were taking a picture with the sign in front of the house (Hocus Pocus movie quote) as a pregnancy announcement. So cute! The house faced the water and was inhabited.. I can't imagine living there and having people taking pictures of the house all the time.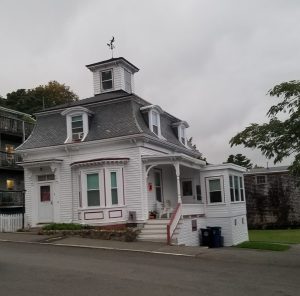 Max and Danni's house from Hocus Pocus
From there I walked up the street a bit to Forest River Park, trying to find the final scene I had on my list, Thackery Binx's village. Unfortunately, it was getting dark pretty quickly and there were some shady characters hanging around the parking lot, but I really really wanted to find the village. After a bit of debating, I went ahead and went into the park to try to find it. I got almost to the back of the park, super uncomfortable the whole time, and decided to turn around and leave. When I got back to the parking lot I realized the area I was looking for, Pioneer Village, was to the left of the lot and I'd turned right! That said, it was locked up and I couldn't see inside. I reached over the fence with my phone to snap a picture though… sure enough, I found it!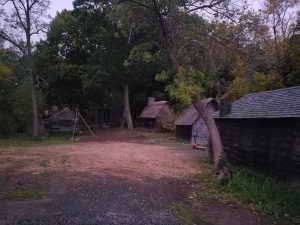 Salem Pioneer Village, Thackery Binx's home
I debated taking a Lyft back into town but ended up deciding to walk the mile and a half or so. I went to a place called the Bit Bar for dinner, I'd read about it online. It was a cool place, but not that great of food. After eating I headed back to my hotel.